Fire Beast, Texport Jacket
j5689112
Fire Beast Jacket
The Fire Beast series by TEXPORT® is a specially tailored clothing for the British market. The Fire Beast suit offers optimal protection with the best performance and design. With the additionally available special combination of the Fire Beast Jacket Toplayer in connection with the Guardian Basic 20471 jacket, the series offers a quick combination for both indoor attack (complies with EN 469) and technical outdoor use. The additional thermal lining is also a flexible addition for colder conditions. The special Fire Beast series offers optimal protection in every situation.
The innovative material composition
X-Treme®
When fighting fires, two serious dangers are direct flames and heat radiation. If the heat penetrates the material of the protective clothing, it can lead to burns to the body. The thermal insulation can delay this decisively – by just those few seconds that are required. Therefore, TEXPORT® has developed the material composition X-TREME®. X-TREME® offers notably more protection and comfort (thanks to its innovative material composition and new high-tech intermediate layer) than is required by the European EN 469 norm. The heat radiation is blocked for a long period of time.
PBI® NEO®
High mechanical strength, combined with the well-known, established benefits of PBI®, makes PBI® NEO® an excellent addition to the PBI® outer layers. The high tensile strength and tear resistance speak for themselves. Thanks to the very good wash resistance, the PBI® NEO® maintains its smart appearance even after many washes. PBI® fabrics do not melt or shrink and do not crack after exposure to heat and flames. As a result of its special PowerShell finishing, re-waterproofing is not required until after 30 washing cycles.
Airblocker®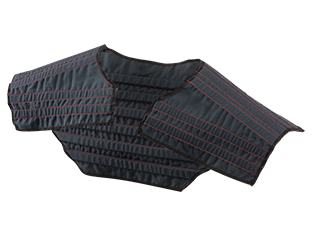 The insulation system in the shoulder area guarantees more safety through a permanent air cushion that rises from protectors in the inner lining and also stays upright when carrying respiratory protective equipment. The trapped air isolates this exposed area.
HPX-System®
With the HPX System®, changing a defective zip is no longer expensive and complicated, but simple and affordable. Through the High PerformanceeXchange System, or HPX System, the lifespan of protective clothing is increased significantly. In addition, thanks to the striking design it is immediately visible whether or not the front part is fully closed. That makes it even safer.
TEXPORT® Triple Fabric®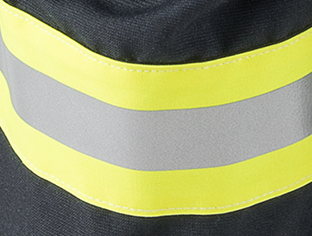 The TEXPORT® Triple Fabric® is a textile reflective stripe that is made from fabric and therefore is extremely breathable and more durable. The reflective, silverstripe material composition, patented by 3M*, adheres very well to the structure of the soft fabric. In addition, the TEXPORT® Triple Fabric® is abraded less severely through wear and washing.
Wicking Barrier
The wicking barrier is permanently waterproof, breathable and wash-resistant. That means even after many uses and washes, the clothing's lining remains completely dry thanks to the GORE-TEX barrier, as no more moisture can enter through the seams.